The gift of getting away to write is captured by Lori Twining on the Ascribe Writers group blog. Gwynn and Ruth are delighted to share her words with our readers. 
April 24, 2018: Spring Thaw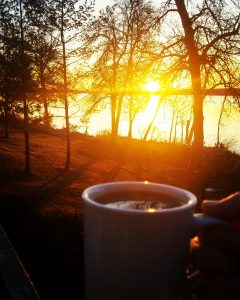 Every writer gets to celebrate one birthday every year. If you have a writer in your life, what do you get them?
Sure, writers love things like coffee, pens, highlighters, cake, wine, empty notebooks (cheap ones from the dollar store will do just fine), leather bound notebooks are awesome too (although most writers are afraid to write in them for fear of wrecking them), coffee, wine, dinner out somewhere, cake, coffee, maybe some more wine, definitely some more cake… but seriously, what is the one present a writer could receive, that would make them the happiest writer you know?
What is it?
Well, I am a writer and I give myself a present every year AND I consider it the best present in the world for a writer who works full time for someone else.
The gift of TIME
When I say time, I don't mean buy them a watch. I mean, buy them a gift of time ALONE, without interruptions.
How do you do that?
Simple. I'm doing it right now.
I'm alone, well almost. I have two writing buddies from my local writing group, Ascribe Writers, who drove over four hours with me, to arrive at a beautiful lake where spring has already arrived (unlike the piles of snow still sitting at home). Here at Rice Lake, we found an amazing all-inclusive writing retreat at the fabulous Elmhirst's Resort in Keene, run by Writescape (The Writing Retreat Specialists). Which means, there are over a dozen other writers here too.
It's also difficult for those same writers who have to feed their families after they are finished working, clean up and do dishes, and then run their children to various sporting events, after-school jobs or to the gym or library. Time disappears too fast, and if there is an hour or two left in the day, writers are usually exhausted and probably couldn't even write one sentence that made any sense.
So, technically, I'm not always alone. BUT, 87% of the time I am. I'm spending five whole days concentrating on writing my novel and I'm extremely happy to be making progress in huge leaps and bounds. It's hard for writers that go to a day job for 8-13 hours each day, Monday to Friday, and still want to write for the fun of it.
If you have the opportunity to sign up a writer that you know for a 3 or 5-day writing retreat, GO FOR IT! They will love you. Or perhaps, YOU ARE THE WRITER? Then, feel free to treat yourself to this amazing gift.
Seriously, I'm almost convinced that this place is Heaven for writers. Early morning coffee at 5 a.m. on the deck watching the sunrise as you think about the motives of your characters and why they are doing what they are right now. If you get stuck, there are other writers that will help you brainstorm, giving you ten new ideas you never thought of before. They will help you with your title, your character names, a restaurant or hotel name, and they'll even help you with motives for murder.
Feed your passion
Perhaps you are a writer that has lost your muse? Maybe you are stuck? Confused? Lost? And want to quit writing? Well don't do it. Writing retreats are the best medicine for a soul who is passionate about writing.
Ruth E. Walker and Gwynn Scheltema run a daily workshop or two during the writing retreat to get the creative juices flowing or just to stretch your creative mind. They never fail to surprise me, by discussing a topic I thought I already knew about and presenting it in a completely different way. Fascinating approaches to getting into your character's minds and then allowing us to try it in exercises that you can actually use in your novel.
Anyone who knows me, knows that I hate doing writing exercises. These two ladies have convinced me the writing exercises are a precious gift for my writing projects, and they are definitely NOT a waste of time. It is worth every single penny, just to figure out that aha! moment that fixes everything in your story. I'm so grateful.
We gather with all the writers twice a day to eat lunch and dinner (breakfast is provided in your cabin, helpful if you'd rather sleep through it). While there, we discuss the normal struggles writers face with writing, editing and getting published. We share ideas on how to feed our family quickly and still find time to carve an hour or two out of the day to write. Some of us are early risers and get up before the sun does and others are night owls and double as the nightly neighbourhood watch, while the rest of us sleep.
Feed your body
I should mention the food. Oh my goodness! It is fabulous. Roast beef that melts in your mouth, fresh grilled salmon, luscious pork covered in apple slaw, veggies, pasta, rice, fruit, crepes with fresh fruit, omelettes, BACON and vegetarian options for every single meal. Desserts galore, with so many options, it takes you five minutes to decide what you want to have. You walk away stuffed to the ears, thinking you will never eat another bite for as long as you are at the retreat. Well, I can easily say, that a quick walk along the shoreline, and several hours of pounding a keyboard cures that. So, we eat every 5-6 hours whether we are hungry or not. AND, we love every minute of it.
I could go on and on, describing what a great birthday gift I gave myself this year, but I still have two more days left of writing at this retreat, so I need to get back to writing about murder and mayhem in the big city.
One More Thing
One last thing, while I'm speaking of murder… Writescape has another 3-day writing retreat this fall: Turning Leaves on November 2nd– 4th, 2018. It will be held at Fern Resort on Lake Couchiching in Orillia with special guest Canadian author Andrew Pyper. Registration opens on Wednesday, April 25. If you love psychological thrillers, mysteries or dark fantasy books (a.k.a. horror), you might want to join me at this writing retreat. Of course, all of the discussions and writing exercises are adaptable to all the different genres you are writing. But, if you are writing mysteries or thrillers, you'll have Andrew on hand to ask questions about the genre or the publishing process, all weekend long. Go to the website to reserve your spot: WRITESCAPE WEBSITE. Limited spaces available.
Okay, wait, this is the LAST, LAST THING, I promise. Look at this picture of a writer sitting on the cabin's back deck in the warm hot sun, accompanied by a friendly kitty-cat, writing beside a beautiful blue lake, listening to the Loons calling out… "THIS COULD BE YOU!" Think about that for a minute.
Lori Twining
writes both fiction and nonfiction, with her stories winning awards in literary competition and appearing in several anthologies. She's an active member of many writing groups: International Thriller Writers, Crime Writers of Canada, Romance Writers of America, Toronto Romance Writers, Writers' Community of Simcoe County and
Ascribe Writers.
She's a lover of books, sports and bird watching, and a hater of slithering reptiles and beady-eyed rodents. www.lvtwriter.com; Twitter @Lori_Twining.