In Conversation with…Vicki Delany
So many of us dream of being a full-time writer. But how many of us would sell our house and retire early from a job as a systems analyst with a major bank to do it? Vicki Delany made that gusty move in 2007. Now she rarely wears a watch and can write whenever she feels like it. 
In just ten years, Vicki (also writing as Eva Gates) has more than 20 crime and mystery novels to her credit .
And she finds time to give back to the writing community. For two years she was Chair of Crime Writers of Canada, and is also a member of Capital Crime Writers and Sisters in Crime. Just this last Labour Day weekend she was an organizer for the first festival of Women Crime Writers: "Women Killing It".
Plus, she's taking precious time out  to join us as Writescape's guest at this year's fall retreat, Turning Leaves 2017.  Perhaps you'll join us too, but right now, take a glimpse into the writing life of this prolific, energetic and generous crime and mystery writer.
What attracted you to the mystery/crime genre?
Mystery novels really do fill the spectrum from light and fluffy to very dark indeed. Something for everyone in fact. Darker crime novels, such as psychological suspense, show the human psyche under pressure.
They take (usually) normal people and put them through a heck of a lot. Some survive, some do not. Physically as well as mentally or morally.
Crime novels allow the reader to ask him or herself: what would I do in this situation? What would I do if this happened to me? How far would I go to save my child/defeat my enemy/get revenge/save myself? What would I do for money/for love?
I'm not interested, as a reader or a writer, in explicit violence or international spies. I'm interested in character and character development, good and bad. It's through the lens of the crime novel that we can explore people under extreme pressure. The use of a crime or a mystery allows the author to up the stakes for the characters, but the essential humanity and the complex range of human emotions are what's all-important.
At the moment, I'm writing mostly cozy books. Cozies are all about friends and family and community. The tone is much lighter, there is never any real danger to the main characters, and not much in the way of tragedy or angst. Sometimes a little dash of romance, but the friendships are all important. People love these books because they come to love the characters and the town they live in. And the food. Food and books are often important in cozy novels.
What books are on your bedside table right now?
I'm reading The Perfect Spy by John Le Carre, recommended by a friend. A powerful, complex, intricate novel by an author at the height of his powers. I've just finished Dust and Shadows by Lyndsay Faye. In the Sherlock Holmes Bookshop series, all the books and merchandise for sale in the shop exists in real life. I don't read everything my fictional character stocks, but I do like to dip my toes into Sherlock pastiche now and again.
Up next? Probably In the Name of the Family by Sarah Dunant. I am not a big historical novel reader, but I have loved Dunant's books. I'm looking forward to the September release of Collapse of a Country: A Diplomat's  Memoir of South Sudan by Nicholas Coghlan because I have been to South Sudan and I set one of my adult literacy novellas there. (Juba Good)
Tell us about your most recent mystery book series
The latest series is a cozy series, meaning very light, an easy read. No human tragedy or angst here. Gemma Doyle owns the Sherlock Holmes Bookshop and Emporium on Cape Cod. The first book in the series is Elementary She Read.  When Gemma finds a rare and potentially valuable magazine containing the first Sherlock Homes story hidden in the bookshop, she and her friend Jayne (who runs the adjoining Mrs. Hudson's Tea Room) set off to find the owner, only to stumble upon a dead body.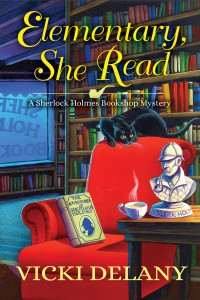 The hig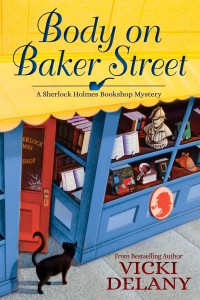 hly perceptive Gemma is the police's first suspect, so she puts her consummate powers of deduction to work to clear her name, investigating a handsome rare books expert, the dead woman's suspiciously unmoved son, and a whole family of greedy characters desperate to cash in on their inheritance.
But when Gemma and the ever-loyal, but often confused, Jayne accidentally place themselves at a second murder scene, it's a race to uncover the truth before the detectives lock them up for good.
The second in the series hit the shelves last week on September 12, and is called  Body on Baker Street. The series is a lot of fun with lots of Sherlock Holmes references, but the books can be enjoyed by people with no interest in the Great Detective at all.
Describe a typical writing day/week
When I am at home I write every day, seven days a week. I get up in the morning and go to my main computer in my office, and read e-mails, read the papers online, spend a bit of time on Facebook or Twitter.
Then it's time to start to write. I walk into the dining room and stand at my Netbook computer which is on the half-wall between the kitchen and the dining room.  As I pass through the kitchen, I put one egg on to boil.  (In the summer, I might sit outside on the deck). I always write, standing up, on the Netbook. I read over everything I did the previous day, doing a light edit as I go. I then take my egg into the study and eat it while checking email.
Then back to the small computer for several writing hours. Discipline is important to me, or I'd never get anything done.
What was the best piece of writing advice you ever received?
In On Writing, Stephen King says to be a writer, you have to read and you have to write. Read, and read a lot. It's the only way you are going to learn the craft of writing.
What are you working on right now?
The fourth, as yet untitled, book in the Sherlock Holmes Bookshop series.  I am about to start going over the publisher's edits for The Spook in the Stacks, the fourth in the Lighthouse Library series I write under the pen name of Eva Gates.
DID YOU KNOW
At Writescape's Turning Leaves 2017 fall retreat November 3rd to 5th, you can meet Vicki Delany at the author's chat on Friday evening and take a workshop with her on Saturday morning, as well as enjoy her company at meals and social times.