By Guest Blogger, Lori Twining
What writer wouldn't love to disappear from their life and spend an entire week hidden away at a remote location? With no other obligations other than to put fingers to keyboard or pen to paper and tell a story. Maybe, a story no one will ever read? That's a possibility. But hey, if you are a writer, you will have a strong desire to write that story whether someone reads it or not, right?
Disappearing to a remote location sounds fantastic, especially after the tough year or two we have experienced. My doctor said I was becoming a workaholic, even though I'm working from home now, and I should take a mental health break. She said something like, "Take a vacation."
In my mind, I watched her scribble a prescription on her pad for me:
Go somewhere. Eat, sleep, and write from sunrise to sunset. Repeat for seven days.
So, I passed the fake message along to my family and booked a writing vacation. I realize that most writers can only dream about going to a week-long writing retreat. Sometimes, writers struggle to leave their family behind or they find it challenging to schedule time away from work, or they can't even manage to save enough money to go away. The stress is real, but if you can achieve it, I highly recommend doing it.
At this moment, I'm finally experiencing a writing vacation that I have been looking forward to for almost two years. I booked the retreat with Writescape in the fall of 2019 to celebrate my spring birthday away from home doing something I like to do: WRITE! However, the event was postponed three times due to the pandemic happening right outside our door. Although we are not finished with the pandemic yet, I'm thankful for science and knowing everyone at this retreat is double-vaccinated, masked, and keeping their distance.
With that in mind, I cannot express how ecstatic I am to be tucked away in a bedroom on the second floor of a rustic cottage with a 4-foot wide window overlooking beautiful Rice Lake FOR SEVEN DAYS. I haven't been setting the alarm because I'm on vacation, but I still manage to roll out of bed around 5 a.m. I make a pot of coffee, pull out my notebook and a pen, and write until the darkness gradually turns to light.
The sunrises are breathtaking at the Elmhirst's Resort nestled along the shoreline of Rice Lake (see photo above of me gazing out my bedroom window at sunrise). It is so peaceful and relaxing here that I can't help but focus on the first light breaking through the early morning darkness. The vibrant red, yellow, and orange colours reflect across the serene lake, sending a tingling sensation that rockets from my toes to my earlobes.
Usually, I'm wearing my Jack Nicholson's grin along with my pajamas, and I think about how lucky I am and whom I might have to kill today. (I'm a fiction writer, so it is allowed.)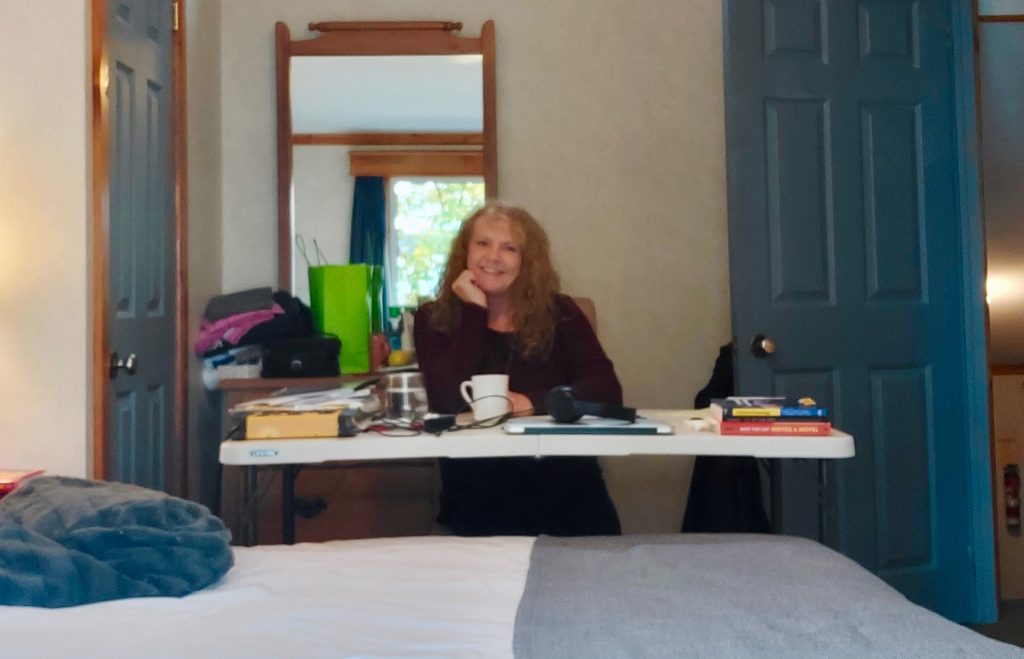 I set up a folding table beside a comfortable chair, and my job is to write ALL the words. This is my solitude time where I can immerse myself inside my novel for seven days. I can wear my pajamas all day if I want to; the same goes for the Jack Nicholson smile. I open my suitcase full of notes and reference material and scour through it for something important. I throw sticky notes up on my wall and figure out my plot holes. I read some parts aloud, looking for extra words or clunky dialogue. I slip outside for a breath of fresh air, walk to the floatplane dock, and make an apple disappear. Then, I get right back to the writing.
Occasionally, during this Writescape retreat, there are writing workshops where the instructors, Ruth E. Walker and Gwynn Scheltema, teach us something small but specific. A timed writing exercise follows this teaching moment. It is funny that when I attended my first Writescape writing retreat, I loathed participating in writing exercises. I wanted to slink out of the room and pretend I was never there. Seriously, what writer can come up with material that is worth keeping during a ten-minute interval of freefall high-pressure writing? Well, it turns out, when I use the courage buried deep inside me, I can surprise myself and find something golden in my words almost every single time. It might have something to do with the other writers' artistic and creative energy in the room with me. It is extremely electrifying.
By participating in the workshops and partaking in the exercises, you learn that it is a process, not your finished product. It is a tiny step along the way to creating something new. It doesn't have to be perfect, as long as the muse is nipping at your ear, pushing you to experience the magic and go where you have never gone before. The sudden release of endorphins triggers positive feelings in your body, similar to morphine. You can honestly get addicted to the high of someone saying they love your writing or trying a new concept and having it work for you.
We discussed art emerging from art by using Ekphrastic Writing, which was a fascinating workshop for me. I created six pages of new writing about a piece of art that speaks to me. With that, I will select the words, sentences, and statements I want to keep to form a poetic response inspired by the sculpture, thereby enhancing the artistic impact of the original art through synergy. I will need to do a little more research on my own to see if I'm attacking the project in a clever and creative way. I'm excited to see where it will take me.
Today, I'm reaching the halfway point of my retreat, which makes me sad, happy, and freaked out. I have so much I want to do here that I'm considering skipping the sleep portion. *Joking* I'll just reduce the shut-eye time to five hours instead of six. That will make all the difference.
If you are a writer and you want to be more productive in your quest to finish that novel, then grab a couple of your writing buddies and plan a writing retreat vacation.
I'm grateful for the solitude mixed with the camaraderie that is happening this week. The pleasure of attending this contemplative retreat makes me cherish every minute of this writing journey, and I'm honoured to spend it with friends who have the same passion and mindset as I do.
Thank you to Ruth and Gwynn for running a fantastic retreat that I will miss dearly. I look forward to finding a new adventure for next year's retreat (although I might just camp in Gwynn's backyard, looking for poetry advice).
Lastly, I'm thankful to the two writing friends pictured below: Seana Moorhead and Donna Judy Curtin, for always accompanying me on these writing retreats. They are the best cheerleaders a writer could ever ask for. They remind me that I'm here to unplug, focus on my writing, and need to get my shit done.
I look forward to the day that we are successful best-selling authors, and we can tour the world together. Look at me! I'm always dreaming when I should be writing. Ha!
What could be better than going on a writing vacation with writer friends?
Nothing.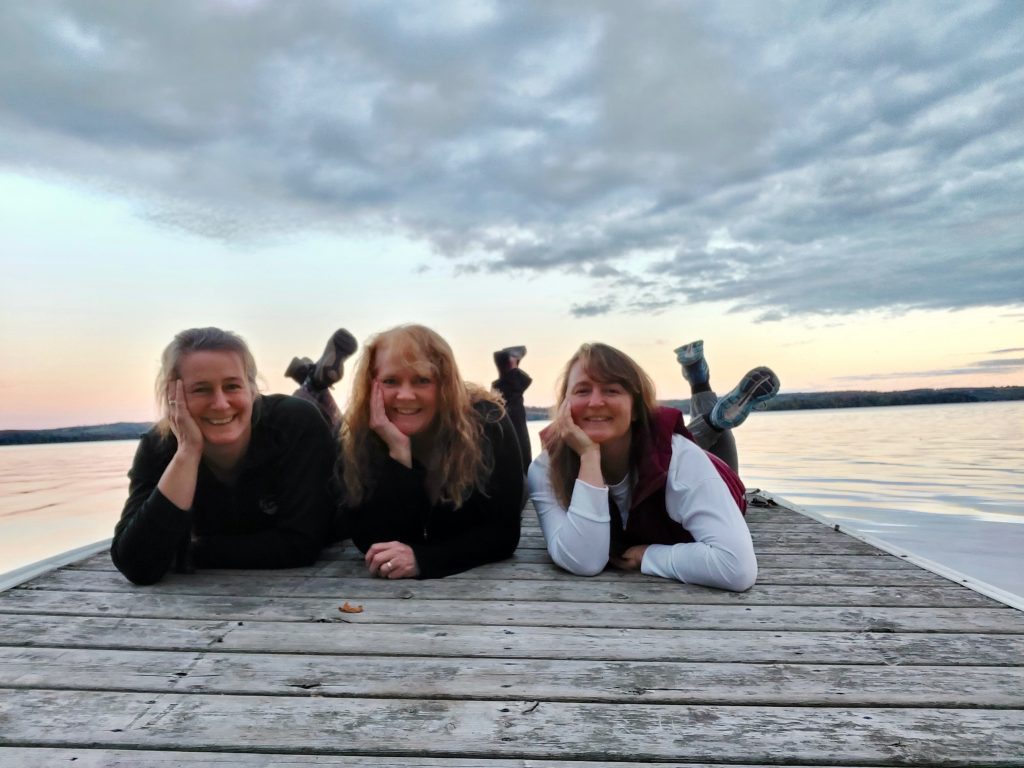 Meet Lori
Lori Twining writes both fiction and nonfiction, with her stories winning awards in literary competition and appearing in several anthologies. She's an active member of many writing groups: International Thriller Writers, Crime Writers of Canada, Sisters In Crime, Toronto Romance Writers, and Ascribe Writers. She's a lover of books, sports and bird watching, and a hater of slithering reptiles and beady-eyed rodents. Find more info at www.lvtwriter.com; Twitter: @Lori_Twining